Opening Hours
19 December update in the light of COVID 19:

Seasonal opening for all readers:

Tuesday 21st December 10am to 6pm

Wednesday 22nd December 10am to 6pm

Thursday 23rd to Monday 3rd January Closed

Books due in that period will have fines waived!

From 4th January, we hope to go back to the usual hours as below:

MAIN LIBRARY:
Tuesday 10am to 6pm

Wednesday 10am to 6pm
Thursday 10am to 7pm
Friday 10am to 7pm

Saturday 12 noon to 4pm

Sunday 12 noon to 4pm
DEDICATED CHILDREN'S AREA:
Tuesday 10 to 5 pm

Friday 10 to 5pm
Saturday: 12 to 4pm

Children can borrow books and DVDs during Main Library Hours.
RHYME TIME - watch the website for updates.

Bank Holidays : LIBRARY CLOSED
Subscribe to our RSS feed

We Need Your
Support
The library can only survive if our community helps with money and its time!
Make a donation here
Volunteers
Our library is run by local community members. Do you have some spare time and would like to join the team? Don't hesitate to contact us. In additon to volunteers in the library, we also need help on administrative tasks and at evening events.
If you would like to be a Trustee, we recommend that you start by voluntering to gain understanding but let us know early of your interest. We expect Trustees to have transferable skill to offer and play a part as an active team member
Find Out More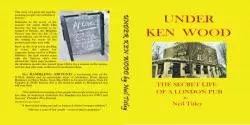 A delightful, funny new book about Hampstead by Neil Titley describes detailed street by street rambles, lots of history and features the story of the beloved Magdala Pub which reopens in April.
If you like Hampstead, you will love this book!
Available for purchase in limited numbers through the library. Neil is donating all profits to the Library.
For more infomation and how to buy please see the dedicated page or click here
---
September 2021:
Saturday CHESS Classes are back!

Bring your children to the Library for a chess class with our professional teacher, Bryan.

Every Saturday 2.00pm -3.00 pm (note earlier time.)

Classes cost from £7 per child. Chess Sets provided.
Booking not needed - just turn up!

---
Do you need someone to talk to about your computer?
---