Opening Hours
The Library is re-opening in stages from 18th July 2020

Fines will be waived from 16th March 2020 until the end of July

Books can be dropped back in the metal box by the gate, ideally in a bag.

We look forward to being back and open to all!

Current hours

MAIN LIBRARY:
Tuesday 10- 6pm
Thursday / Friday Closed
Saturday: 12 - 4pm
DEDICATED CHILDREN'S AREA:
Tuesday 10 - 5 pm
Saturday: 12 - 4pm
Children can borrow books and DVDs during Main Library Hours.
STILL SUSPENDED : RHYME TIME - suggested £3 per child:
Tuesdays at 10.30 with Cara


Fridays at 10.30 with Sasha


Monday & Bank Holidays : LIBRARY CLOSED
Welcome to Keats Community Library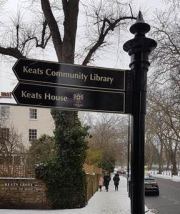 Coronaviris crisis: ( update 9th August 2020) We are open every Tuesday ( 10am - 6pm) and Saturday (12-4pm)
NEW: The public computers and printers/copiers are back.
3 Computers available - one is bookable in advance, the others are "first come" basis.
All visitors will be required to
Respect the limit on numbers allowed in the building and the social distancing rules
Use the hand sanitisers provided in the entrance hall;
Wear a face mask while in the library. If you cannot wear a mask or a visor, please ask us to serve you outside.

The desks and sofas will not be available for reading and study. Returned Books will be placed in quarantine for 72 hours.
To tempt everyone back, we have bought a large number of newly published books.
These, together with other 2019 and 2020 publications will be on display at the entrance for easy collection.
See the catalogue for details.
PS: Our income from operations and events simply stopped. We would welcome help from anyone in these extraordinary times. Just get in touch to find out more about offering your time in the future.

General Conditions for Library use and applicable charges are posted in the Library at the Librarians's desk. A copy is available CLICK HERE

Activities
---
Saturday CHESS Classes suspended
Bring your children to the Library for a chess class with our professional teacher, Bryan.

Every Saturday 2.30-3.30 pm
Classes cost £5 per child. Chess Sets provided.
Booking not needed - just turn up!

---
Do you need someone to talk to about your computer?
---