Opening Hours
19 December update in the light of COVID 19:

Seasonal opening for all readers:

Tuesday 21st December 10am to 6pm

Wednesday 22nd December 10am to 6pm

Thursday 23rd to Monday 3rd January Closed

Books due in that period will have fines waived!

From 4th January, we hope to go back to the usual hours as below:

MAIN LIBRARY:
Tuesday 10am to 6pm

Wednesday 10am to 6pm
Thursday 10am to 7pm
Friday 10am to 7pm

Saturday 12 noon to 4pm

Sunday 12 noon to 4pm
DEDICATED CHILDREN'S AREA:
Tuesday 10 to 5 pm

Friday 10 to 5pm
Saturday: 12 to 4pm

Children can borrow books and DVDs during Main Library Hours.
RHYME TIME - watch the website for updates.

Bank Holidays : LIBRARY CLOSED
Welcome to Keats Community Library
Best wishes for the season and our hopes for 2022 being better from the Library team!

Sadly, we have decided to close over the holiday in order to reduce the risk of spreading that virus. It is a quiet time anyway.
Please stock up with books on the 21st and 22nd December.
If you have a book due back in that period, please hold onto it until January - fines wil be waived for that period.
All public computers will now be available as before.
Study tables can be used with up to 2 per table.
Newspapers and magazines are not supplied partly for hygene considerations
Until further notice, we are still requiring MASKS TO BE WORN INSIDE. This is in line with the practice across the Keats House Estate and makes our older patrons more comfortable.

We need (nearly all!) your donations - please click HERE to read the guidelines for book donations.

Our income depended on events and donations . As with so many business, income fell off the cliff after March 2020. While expenses are now at previous levels, income has not recovered.
If you can spare help, please do not forget us. People donate monthly from £2.50 to £100 and ad hoc all of which really helps us.
General Conditions for Library use and applicable charges are posted in the Library at the Librarians's desk. A copy is available CLICK HERE

Activities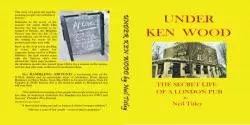 A delightful, funny new book about Hampstead by Neil Titley describes detailed street by street rambles, lots of history and features the story of the beloved Magdala Pub which reopens in April.
If you like Hampstead, you will love this book!
Available for purchase in limited numbers through the library. Neil is donating all profits to the Library.
For more infomation and how to buy please see the dedicated page or click here
---
September 2021:
Saturday CHESS Classes are back!

Bring your children to the Library for a chess class with our professional teacher, Bryan.

Every Saturday 2.00pm -3.00 pm (note earlier time.)

Classes cost from £7 per child. Chess Sets provided.
Booking not needed - just turn up!

---
Do you need someone to talk to about your computer?
---