Opening Hours
MAIN LIBRARY:
Tuesday 10am to 6pm

Wednesday 10am to 6pm
Thursday 10am to 7pm
Friday 10am to 7pm

Saturday 12 noon to 4pm

Sunday 12 noon to 4pm
DEDICATED CHILDREN'S AREA:
Tuesday 10 to 5 pm

Friday 10 to 5pm
Saturday: 12 to 4pm

Children can borrow books and DVDs during Main Library Hours.
RHYME TIME - watch the website for updates.

Bank Holidays : LIBRARY CLOSED
Welcome to Keats Community Library
12th April 2012 was the day we opened as Keats Community Library - our 10th year beckons.

The library owes its thriving existance to the those who have given their time (many of our orignal volunteers are still working ) books and money; local businesses and sponsors; Hampstead Summer Festival ; all the many speakers, actors and performers who have given generously of their time for our events THANK YOU ALL.

The library is now back to operating pretty much as normal; if you have not been for a while do come back.
We never ceased acquiring new books and these are on display by the entrance. You have to be quick as our regulars snap them up!
Although not a legal requirement, we are still suggesting MASKS TO BE WORN INSIDE. This makes our older patrons more comfortable.

Donating books or DVDs: please click HERE to read the guidelines for book donations. Next GIANT book sale is Autumn 2022.
Our income depended on events and donations. As with so many charities and business, income fell off the cliff after March 2020. While expenses are now at previous levels, income has not yet recovered.
If you can spare help, please do not forget us. People donate monthly from £2.50 to £100 and ad hoc all of which really helps us.
General Conditions for Library use and applicable charges are posted in the Library at the Librarians's desk. A copy is available CLICK HERE

Activities
RHYME TIME.

Join us for 45 minutes of singing and movement for young children (0 to 4 years old) and their parents/carers.
Normally on Tuesday and Friday at 11am
NOTE: Booking required: Please go to www.wegottickets.com and search for "Rhyme Time" .

---
Saturday CHESS Classes
Classes back on 23rd April 2022

Bring your children to the Library for a chess class with our professional teacher, Bryan.

Every Saturday 2.00pm -3.00 pm (note earlier time.)

Classes cost from £10 per child. Chess Sets provided.
Booking not needed - just turn up!

---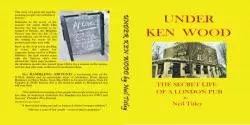 Exclusive and Now in its 6th reprinting! A delightful, funny new book about Hampstead by Neil Titley describes detailed street by street rambles, lots of history and features the story of the beloved Magdala Pub which has re-opened after a long time.

If you like Hampstead, you will love this book!
Available for purchase in the library, Daunts and the Magdala
For more infomation and how to buy by mail order, please see the dedicated page or click here
Neil is donating all profits to the Library.
Do you need someone to talk to about your computer?
---